For the first time since its inception in 2015, the annual Women in Data conference saw communications support provided to its delegates – provided by team members at Achieve together.
Boo Holmquest, Service Manager at Forest View, Dimmock House and Robins Way as well as outreach, provided communication support through BSL. Nancy Weatherson, bank worker at the above services and owner of Lip speaking service Feel hear, also provided her services.
The O2 Intercontinental conference room where the event was held is the largest in Europe. It was thronging with 2,000 Women in Data delegates from a huge variety of industries. Inspiring speakers included Dame Stephanie (Steve) Shirley, now in her 80s, who blazed a trail by starting a software business in 1962. Dame Shirley has a son with autism.
Promoting D/deaf awareness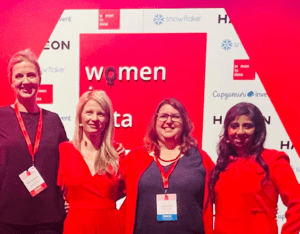 Boo and Nancy took it in turns to cover the main conference halls speakers, providing BSL communication support or lip speaking in 15-minute slots. During networking breaks they manned a stand, speaking to people about the ways they can break down barriers for D/deaf people.
Boo said: "I feel extremely privileged to have been asked to help promote communication for D/deaf people at such a prestigious event. I've been to many large gatherings but never experienced anything on that scale before.
"It was a surprise that so many huge industries represented at the event were not D/deaf aware. They didn't know that Access to Work exists. There is so much technology that we can use to make reasonable adjustments. I enjoyed helping others to realise what they can do.
"Despite the BSL Act, there is still little D/deaf awareness. We were there as ambassadors to try to make sure that D/deaf people are included in the workplace. Once that window of diversity, inclusion and equality is opened, there are so many opportunities.
"It was exhausting, but very rewarding – altogether a fantastic day."
Sharing their expertise
Emily Chuang, Digital Marketing Manager, who also attended the conference, said: "I was overjoyed to see such a radiant crowd with a great diversity in colour, background and age. Boo and Nancy were passionate, kind, and open to sharing their experience and expertise in supporting D/deaf communities and their work at Achieve together. Many attendees really appreciated it, including myself.
"Achieve together, in Boo and Nancy, provided great support to the D/deaf communities at an event that promotes equity and inclusion at the core of its mission. With the theme of the event being data and compassion, it links fittingly to Achieve together's recent Laing Buisson Award for Specialist Care, which we won for the excellent support we provide which is aided by our innovative communication platform the AchieveApp launched in March 2022."
Image shows: Nancy Weatherson, Women in Data founder Roisin McCarthy, Boo Holmquest, and Chair Payal Jain