What a day we had, with great football played, trophies and medals won, at Cwmbran Stadium in South Wales on 10 August.
But, it was about much more than football. Lots of people travelled from across South Wales and across different parts of England, including as far away as Yorkshire.
Many people were preparing days in advance – making pom poms to be cheerleaders, banners and signs to cheer on their team, sorting out football kits, picnics, how to travel, food to take etc.
When people are attending planned events like this, the anticipation is important – the build up of excitement, wanting to have a good time, to do well. Sure, there will be anxiety and perhaps some stress with anticipation and we need to be skilled at supporting people to manage that. But anticipation is a part of life so we shouldn't avoid events and situations simply because the event will make someone anxious. We also are responsible for supporting people to experience life, and to learn to manage the build up so they can benefit from more events.
Many people who came along had an early start, some getting up around 4 or 4.30am. That's a bit of a shock to the system – but we support the 'Stay Up Late' campaign, so why not have times when people 'Get Up Early' to enjoy a long day out – the road trip, the banter, songs, sleep, sweets on the way, stopping off at the service station. All are very much part of the experience.
Organising and socialising
I shared a mini bus with eight people who live in four different homes in Wales. They caught up with existing friends, and made new friends. At the stadium, those people helped set up. They took responsibility for helping to organise the day. A person we support was referee for the day. He took responsibility for liaising with reception about things we needed to have in place to ensure the smooth running of the event.
People arrived, teams were organised, and warm ups happened, with team members in Achieve together mucking in, stepping up to help make sure people had a safe and enjoyable time. If you go along to these events, watch out for the interactions, the banter and rapport between team members and people they support (and each other) – an absolute joy to watch.
With this event, given the national theme, we had the Welsh and English National Anthems, to celebrate national pride.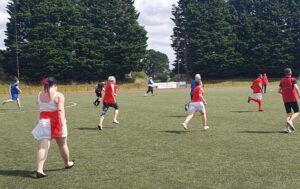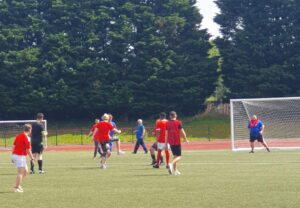 Being a part of it
The football itself was a joy to experience. Each person working as a team, supporters cheering on and flag waving, players calling for a pass, the great defending and tackles, the one that went just wide, the brilliant saves, the controversial decisions. The care for and looking out for each other. We broke for lunch, the chatter, laughs, the photos, the food that had been prepared and now shared.
At the end, the pride of receiving medals and trophies to talk to family and friends about, the tired and proud journey home with aching limbs desperate for a long soak in the bath, or shower and a nice cold drink. The talk of the day, for days to come. The fact that we have something new to talk about, reminisce about.
The England v. Wales match, is not simply a football match. It is, like our other events and any other event people we support join in with – much, much more. The effort is worth it!
Watch the video montage of the day from Educational Day Services Bath on Facebook