10 Years and Counting!
This summer Achieve together hosted another successful virtual Supportive Therapies Festival and infamous 'Pimp My Chair' competition. This festival is specifically for people we support for Profound and Multiple Learning Disabilities (PMLD) and is focused on facilitating diverse and rich sensory experiences, to enable people to access, engage, connect and enjoy activities in a way that is meaningful.
All of us engage in sensory stimulation, be it listening to music, swimming, cooking food or visiting beautiful gardens or museums. Sensory stimulation is fundamental for us all as it can help us to develop new skills and knowledge, in addition to strengthening emotional connections.
This unique and wonderful event was born 10 years ago – Yes it's our 10th anniversary! What started off as a little daydream in a long car journey with Erren Wheatland (Specialist Nurse Practitioner) developed into reality, and with the help from our amazing PMLD Forum colleagues and friends, together we have created a very special, well established event that we eagerly look forward to every summer.
The purpose of the event is to inspire support teams, share ideas and encourage reflective practice. We ask staff to think about the people they support, focusing on statements such as; how fulfilling is their life? What does their day look like? Are people engaging in multi-sensory stimulation and activities in a way that is accessible, meaningful and enjoyable? Do people have opportunities to connect and 'be' with others?
People with PMLD experience the world primarily on a sensory level and depend on others to provide them with sensory stimulation. It is important to recognise and remember that a person's sensory needs are just as important as their physical health, learning and social needs. It is well researched that sensory activities can stimulate a variety of senses and are recommended for people with PMLD as they are found to:
• Improve relationships and rapport
• Bring a sense of well-being and enjoyment
• Improve attention, memory and communication skills
• Enhance learning through wider experience of sensory information
• Promote inclusion and engagement
• Increase a person's ability to engage in the world (Grace 2018 )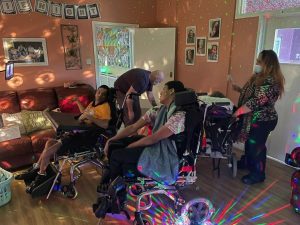 The Supportive Therapies Festival aims to promote sensory rich activities designed solely with the needs of people with PMLD in mind. This year we hosted 10 sessions over the course of a week including Creative Painting, Sensory Sports, Sensory Stories, Relaxation, Sound Therapy and a live virtual Disco was hosted by DJ Brad, a person we support. Check out this year's video here.
The festival always closes with the infamous 'Pimp My Chair' competition. People we support are encouraged to get creative with their support staff to 'pimp up' their wheelchairs!  Over the years we have seen many designs and creations, all outstanding with each person's favourite things in life and personalities shining through. Words cannot reflect how wonderfully creative, vibrant and fun this competition is. Our CEO Emma Pearson once described it as similar to Notting Hill Carnival – What a great observation as it really does have a carnival vibe! Check out this year's amazing creations in the video link and you can see for yourself here!
The competition is always a tough one to call. Our judging panel is made up of representatives from our executive team and C4C and Unity self-advocacy groups. It's fair to say the judges had a really difficult job choosing the winners because all entries were truly amazing! But as with all competitions there can only be a few winners and we are pleased to announce the following results:
Group Entries: 1st Place: Pac Man Video Game (287 Dyke Road). Joint 2nd: Greatest Showman (290 Dyke Road) & Vallance Ark (Vallance Gardens).
Single Entries 1st Place: Rock-Star (Karl). Joint 2nd Mermaid (Anna) & Spooky Witch (Thomas). Joint 3rd Queen of Chandon (Linda) & Queen Elizabeth (Cathy).
Erren and I would like to say a huge thank you to everyone that took part in both the Supportive Therapies Virtual Festival and the Pimp My Chair Competition. It really is the people we support who make this event such a joy, and of course thanks to the amazing support staff who help make it happen. This was our second year of connecting virtually. The event was a success with some great feedback received:-
"The people we support and the staff here at Meesons absolutely love Supportive Therapies week! It is great fun trying other homes meaningful activities and we really enjoy sharing our own. Obviously, due to the pandemic we have had to participate in this event virtually, but we have found that this works very well. It means we have longer to explore the different therapies and really focus on each one" Helen (Lead support worker, Meesons).
"Just wanted to thank you for all of your hard work in arranging the Supportive Therapies week, the guys loved it! Stephen now wears his crown around the house on a regular basis! They engaged so well with the sensory story and Adrian was so alert during the sound bath music and sensory session.  Thank you so much for carrying it on during these strange times, it's such a special thing to be a part of, fingers crossed next year we can all be together again"  Kitty (Home Manager, Chandon).
However, whilst this was a great virtual event the general consensus is that nothing beats the electric atmosphere of meeting face to face and that day can't come soon enough! Roll on summer 2022 when hopefully we can get together and celebrate our big belated 10 year anniversary in person – any excuse to get the 'ding dong' gong and sparkly confetti out!
Thank you for reading this blog, if you have any questions about this event do get in touch.
Best wishes,
Katie (Healthcare Facilitator and Co-Chair PMLD Forum). Katie.reid@achievetogether.co.uk
Erren and Katie Co Author 'Supporting People with Profound and Multiple Learning Disabilities Self Study Guide' https://www.pavpub.com/learning-disability/supporting-people-multiple-learning-disabilities