Mary Woodall was involved in the recently published Unfair to Care report, in her role as a self-advocate member of Learning Disability England's Representative Body.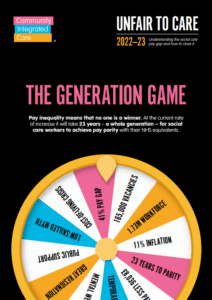 The 2022-23 report, published in December by social care charity Community Integrated Care, is the second of its kind. It explores the social care pay gap and the lack of progress in addressing this fundamental issue. One main finding of the report is that Support Workers are paid 41% less (a difference of over £8,000 per year) than their equivalent counterparts such as Healthcare Assistants and Community Support Officers. The report also highlights that vacancies in the sector are up 52% to 165,000 – the highest since records began in 2012.
Mary, who is a Campaign 4 Change member, is both ardent and tireless in her support of people with a learning disability. Her perspective on why pay for support workers is such an important topic is included in the Unfair to Care report.
Mary's contribution to the report is below:
"My name is Mary. I live in Supported Living and I'm a self-advocate member of Learning Disability England's Representative Body. As well as this, I am a member of self-advocacy group Campaign 4 Change and co-production group Unity. I have a physical disability and a learning disability.

This important report highlights that Support Workers, including PAs, should be paid fairly. Low wages and difficulties recruiting and keeping staff don't just impact them and the organisations they work for, it affects consistent, high-quality support that we need to live our lives, delivered by people we know and trust.

The report ties in with 'Good Lives: Building Change Together' – a framework which brings people together to share ideas of what it would take for people with learning disabilities to live a good life. It says "invest properly in all support services" and "enable pay and conditions for the social care workforce to reflect their value as 'key workers'.

I hope that Unfair to Care 2022/23 helps create the change we need so Support Workers and PAs are properly recognised and valued and paid the Real Living Wage and beyond."
Mary says: "I'm passionate about this subject and have been campaigning about it for some time now, so I was delighted to be asked by Community Integrated Care to contribute to the report on behalf of Learning Disability England.
"It's so important to represent all the support workers, who do an amazing job. They must get a fair wage otherwise so many will leave their jobs and that has a direct impact on those of us who receive support. For many people change is very difficult. We need to be supported by people who know us well, know the activities we enjoy, and offer continuity.
"I was really pleased that the report was on the news. With bills going up it's more important than ever that something is done about this."
Watch Mary's 60-second video on the subject and the BBC news report.
Emma Pearson, CEO of Achieve together, comments: "It has been fantastic to see Mary's involvement and advocacy, her voice and the voices of other people that we support is critical in ensuring that the issue of fair pay is kept high on the agenda for all those involved in planning the delivery of care and support, now more than ever."