It was truly amazing to be back at Clifton Hall School again last week for Supportive Therapy Day. More than 40 people we support with profound and multiple learning difficulties arrived from 17 different homes with their Support Workers, ready to enjoy the many activities arranged for them to explore.  Several family members also joined us.
In contrast to last year, which was extremely hot, the weather was somewhat drizzly but it didn't dampen spirits. Head of Health and Clinical Governance, Erren Wheatland, and her team had arranged everything perfectly. There were no less than 9 different therapy experiences inside and a further 5 in the playground area. Several team members from around the organisation and Unity Representatives Krystle, April and Julien also pitched in to help.
Sensory activities
People we support enjoyed sensory stories plus sound bath, music therapy and meditation sessions. They also smelled different foodstuffs at the Smellovision stand, had a relaxing hand or foot massage, and participated in creating painted bags and making peppermint creams to take home.
Some people had pre-booked a slot in the hydrotherapy pool, others enjoyed the sounds, smells and sights of the sensory pod, met a range of animals or took a turn on the accessible swing.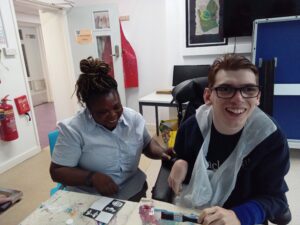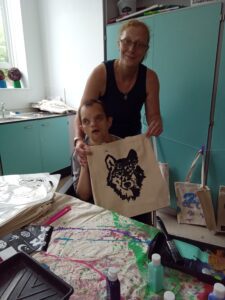 At 1pm DJ Stef arrived to start the disco in the main hall. While many visitors moved in time with the upbeat music, others started to pimp chairs.
Among the entries to the Pimp my Chair competition this year were:
two hot air balloons
a princess in dress made from pleated newspaper
the Trotters' van from Only Fools and Horses
a pirate and his boat
Betty Rubble in her Flintstones car
a tank
a jeep
the Batmobile
a bathtub
and two 'Frozen' Disney princesses.
Krystle, April and Julien had a tough job to pick the winners and settled on joint third, second and first places!
"Pimp My Chair is the highlight of the day and it just keeps getting better and better," said Erren Wheatland. "As always, the designs were incredibly creative – everyone had taken such a lot of time to make these wonderful decorations. There was loud cheering for each of the competitors as they paraded round the room and everyone really enjoys the atmosphere.
"Thank you to everyone for joining us and a huge thank you those who gave their support, time and commitment to enable the day to be the success it was. We had such great feedback throughout the day."