Hi all,
I hope you are all keeping well and looking forward to Christmas! This year will probably be very different for most of us – however there is hope on the horizon, and this gives us a new, more positive focus that things can change, and we can start looking forward in the new year.
I would like to introduce you to Heather. Heather works in assessments and referrals, and has very kindly agreed to share her experiences of anxiety. Heather also offers some great advice and tips that have helped her during some very difficult times.
"Sometimes life is ticking along nicely and then something happens that can make you feel really anxious and overwhelmed. Then on top of that, something else happens, and then something else, and before you know it, anxiety takes over and everything can feel too much to bear. This is how my last two years have panned out…..first quite an unsettling and ongoing health concern, then a dangerous pandemic, then I broke my leg really badly and I felt scared, anxious and lost sight of 'now' in the panic of 'what if…..".
"I was so lucky to find an amazing course to do online that taught me all the skills of meditation and mindfulness – breathing really is the most marvellous skill! And journaling – another skill developed through the course. I have kept a journal since the day the first lockdown started – it isn't a diary and I don't always write in it daily. It is a journal of positivity – 5, 10, 15 minutes most days to reflect on the positives the day has thrown at me. It helps process and have some lovely mindful time writing, or in my case, writing and drawing – and it is lovely to look back and actually see that there has been great stuff in amongst all the worries. So, I do '5 Reasons to be Grateful' and also sometimes some little extras, like who are the VIP's in my life and why, where do I love going, what do I love to do…..and all these things change as we learn new things and meet new people. My dogs are incredibly important to me and when I broke my leg I had major surgery, and so they had to live with 2 friends for a few weeks, and that was hard for me, but I wrote about them loads in my journal. Then when they came home, they took over Reasons to be Grateful for a while, as I was just so happy to have them back."
"I think that slowing your mind down, reflecting on the positives, accepting what is now, using the breath to reduce anxieties, and processing the day with a journal, have definitely helped me manage my mental wellbeing better. No day is perfect, but I feel out of the rapids and back in the lagoon!"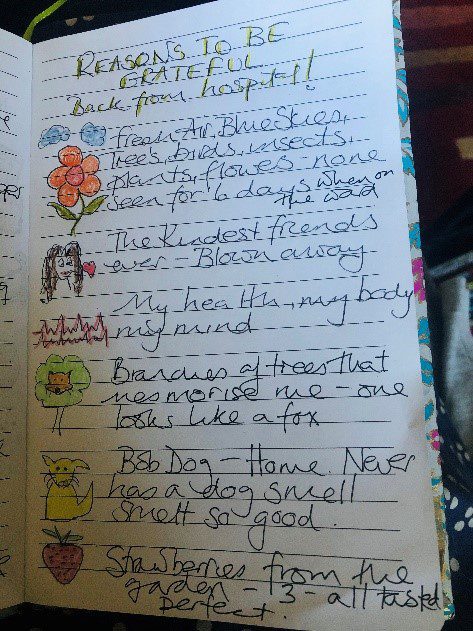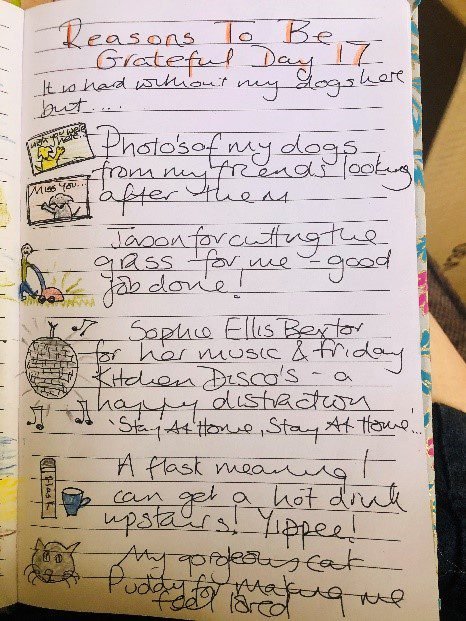 I would like to personally thank Heather for having the strength and courage to share this very personal experience. We know that when people open up and share their experiences, it not only raises awareness but also reduces stigma associated with Mental Health.
We are now running a Mental Health Special Interest Group and the next meeting will be held on the 10th February. If you are interested in joining this group, I have added it as an event on Elfy – please come and join.
If you are interested in sharing your experiences on mental health I would love to hear from you.
In the meantime have a safe Merry Christmas and a very Happy New Year.
Take Care
Shirl