In an exciting and fun-packed event we announced our 2023 Heroes Award national winners today.
The room filled with more than 120 guests, and anticipation and enthusiasm mounted as we celebrated and applauded the achievements of the finalists and winners.
2023 Winners
Making it Happen Award Winner – Keelee Edwards, Earlmont House
Excellence in Accessibility Award Winner – Rogerstone House
Darryl Chapman Award for Health Promotion Winner – Magnolia Cottage
Newcomer of the Year Award Winner – Mia Mitchell-Phillips, Wilbury Gardens
Employee of the Year Award Winner – Philip Smith, Manor Barn
Team of the Year Award Winner – The Chestnuts
CEO Award Winner (for organisational impact) – Martin Simkin, Central Support
Outstanding Contribution Award Winner – Sandra Whittington, Wilbury Gardens
Each winner received an engraved glass Hero Award, a framed certificate, a bottle of bubbly and a 'golden ticket' to spend via our new rewards platform for Team Members. Our Regional Winners also each received a certificate.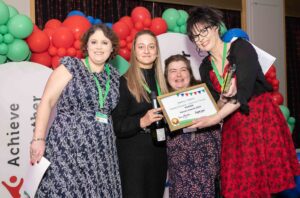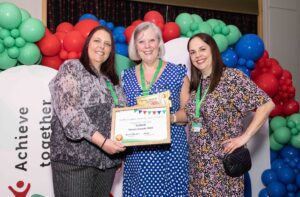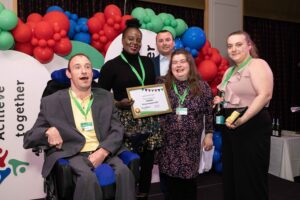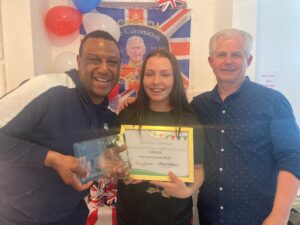 Live stream
For the first time ever, people at home were able to join the party via a live stream link. Together with the guests at the event venue, they enjoyed the award presentation part of the day's proceedings. This included lots of inspirational and moving testimonial videos submitted in support of finalists by their nominees and team members.
During the event, a caricaturist captured amusing portraits of the guests and winners, and lots of photos were shared on the AchieveApp, some using giant selfie-frames!
Co-production
Each award was co-presented by an Executive Team Member and a Unity Representative (our co-production group).
We also heard from co-presenter and Unity Member, Michael Powell, and Dr Geraint Lewis. They spoke about Michael's journey through the forensic mental health system and how he now helps others by sharing his experiences.
CEO at Achieve together, Emma Pearson, said: "Altogether, today was an uplifting, inspirational and memorable day with a lot of: #HavingFun #ValuingEveryone #BeingBrave and #MakingItHappen.
"We had around 450 entries for our Heroes Awards and we worked with people we support to choose the Regional and National winners. The standard of entry was so high that it was very difficult to make those decisions. It was a really great showcase of the amazing support our Team Members are providing every day, and a thank you goes to each and every one of you, as well as to our fabulous Unity judges for this event."
MC for the Event, Unity Representative Mary Woodall, said: "I absolutely loved today. Just seeing the winners – their faces – was absolutely amazing. They are all Heroes!"