We've been chatting to Saheed Kolapo, Registered Manager at Oakdale Road in London, to find out what makes it such a special home for everyone who lives and works there.
Tell us about Oakdale Road
"Oakdale Road is a residential home in Lambeth, London. Here, we support 9 adults with learning disabilities, sensory impairments, communication difficulties and complex needs, including epilepsy".
Since Oakdale opened in 2006, Saheed has been proudly supporting people every day. In those 16 years, he's seen people grow and develop from younger to older adults, make friends for life and achieve their full potential.
What makes Oakdale Road so special?
"What makes Oakdale Road special is that it really feels like home, and that's why people stay with us for so long. I always want to make it feel like a home so that when people come in, they think 'this is really nice.'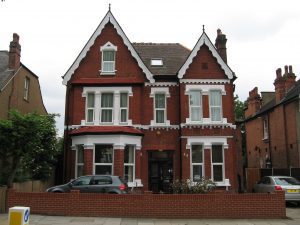 Saheed spoke with fondness about how he remembers first meeting many of those who still live at Oakdale back in 2006 for initial assessments, as he was then deputy manager of the home. At Oakdale, 2 people have been living there since it opened, for over 16 years, and a further 3 have been there for more than 11 years.
Having been together for so long has meant that Saheed and the team who work there have great relationships with the people who live there and their families, friends, and advocates.
All of the support workers at Oakdale know the people they support very well because they been working with them for over 5 years.
"After someone moves into Oakdale, we build a lovely relationship with the other people who support the person who lives here. We speak to family members at least once a week – talking about what's been happening, any issues, resolution plans and activities we are looking forward to."
"Family members often come to visit, and we encourage them to come when they like – so long as it is something the person wants. We have one family who has always visited us every week on a Tuesday since we opened in 2006".
"I always say, 'Just give us 20 minutes' notice when you are coming to see us – the door is always open to you'".
Because many of our families have been coming to Oakdale for so many years, many of them know each other, and this acts as an important support network for them. Saheed added, "We used to often come together for a barbeque in the summer months, which is always fun and lets people catch up and chat. We're now starting to bring them back safely."
What makes people want to stay at Oakdale for so long?
"Here, we are a real family. People love staying together and being happy. When someone new joins us, like in 2017 and then in 2020, they join our family and usually they find it a lovely place to be".
Saheed talked about person-centered care, helping people to do as much as they can by themselves. People also love to make personal touches in their rooms, from the colour to their choice of furniture and pictures. All of the bedrooms have en-suite bathrooms, which gives everyone the personal space they like – but with the option to socialise in Oakdale's communal areas.
There's a real sense of independence, too. Some people enjoy going to the day centre and college, others prefer to stay at home. We have a mix of age groups, which brings a lovely dynamic to Oakdale Road, ranging from 42 to 72 years old.
"The one thing that we all have in common is that we like a calm and quiet environment, but with a lot of fun. We celebrate birthdays and special events, making us a compatible group here at Oakdale Road."
What do you love most about your job?
"I've been in the health and social care sector since I joined Achieve together in 2002 as a support worker, and I was later promoted to deputy, then manager.
"For me, it's when you see smiles on people's faces when you support people to be part of their community. It's about giving people opportunities, making them smile and feel happy.
"And it's also when families come back and say they're impressed, and they say, 'thank you so much' – it's just that."
Saheed said that he always wishes for the best for every person he supports. He knows he has done his job when he sees that person thriving. He recalls one person who came from a mental health hospital and wasn't able to go out at all; now they go shopping, to the hairdressers, day centre and to meet up with family members.
And when someone is ready to take the next step, he will support them – whether that is in a supported living setting or a new home, he is there for them.
---
Oakdale Road is a specialist residential home for adults aged 40+. If you want to talk to us about moving into Oakdale Road, or another Achieve together home, just contact us and we'll be happy to help.