Due to the Covid-19 pandemic, it has become increasingly challenging to keep the people we support motivated and interested in activities provided throughout our homes. Despite this, our teams have been working hard to come up with new and innovative ways to keep spirits high and the people we support engaged.
At Kingsdown, service manager Sharon had been searching for something that would captivate people, develop their skills, and also be enjoyable (including for our team members). So was born the 'Achieve Myself' scheme!
The scheme was set up to encourage the people we support, no matter their ability, to take on a series of manageable tasks with both fun and learning in mind. For instance, if someone enjoyed helping out in the kitchen then their goals might be around using the kitchen equipment, cleaning the kitchen and making a meal.
Each goal is added to the weekly activities sheet which means that staff can support as and when needed. When all of the goals are completed, the people we support receive a badge which is then placed on their hand-made Achieve Myself t-shirt!
What badges have the people we support achieved?
Paul has recently been working on getting his cooking badge. Here he is cooking up a storm in the kitchen!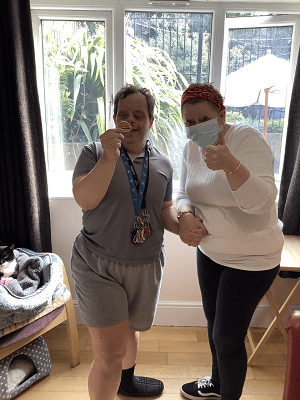 Sean has been working hard on getting his gardening badge. He's really enjoyed watering the plants and helping to keep the garden in order.
Rachel has completed her cooking badge and is working towards her next goal!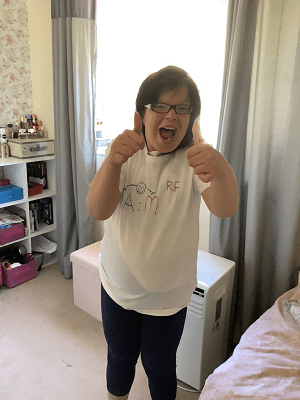 A huge thank you to our team at Kingsdown. What a great way to encourage those we support to learn extra skills and have fun at the same time!