A massive congratulations to Poppy Keen who is our deserving winner for June.
Poppy is a support worker from our Leopold Muller home, and is highly regarded by her Managers and her peers. As every support worker will know the role offers both moments of extreme highs and positivity, as well as moments of challenge and sadness. Unfortunately, Leopold Muller lost somebody they supported in June. This was an incredibly hard time for everyone involved including all of the support team, and the family of the individual.
Poppy and the team handled this devastating situation with such dignity and compassion. Poppy's natural dedication and kind heart shone through.  She ensured that all the individual's needs and wants were met and showed such enormous care and respect and is an absolute credit to both her team and Achieve together. Poppy went above and beyond and tended to this person with such kindness and love and we are proud to recognise her as Our Employee of the Month.
Our thoughts are very much with all the team and this individual's family and friends
Well done to Poppy for showing such compassion and courage at such a challenging time.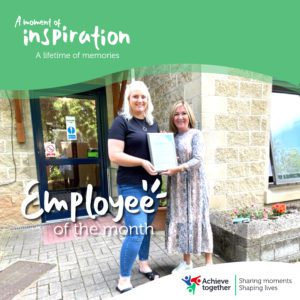 Interested in Leopold Muller?
To find out more about Leopold Muller Residential Care click here.
To find out more about our Residential Care homes click here.