Launched in January of this year, Here to Help, Here to Learn is an amazing opportunity for our Central Functions (CF) team members to visit our homes and services to learn more about our Operations teams' day-to-day duties and meet people we support. Central Functions includes teams such as HR, Finance and Marketing. Team members are able to take two paid days each year to offer their help in an Achieve together home or service local to them.
Team members have had some great days out, assisting with a range of different activities and tasks.
Bedroom makeover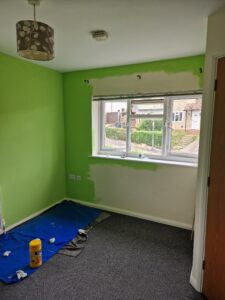 Head of Recruitment, Lauren Tough and HR Shared Service Manager, Kim Lewis, visited a Supported Living home near Guildford. They lent a helping hand painting the bedroom of a person we support in their favourite colour – lime green! Lauren said: "It was great to do something that made a difference. We met a couple of the people we support – they were all very independent." Kim said: "The team there were lovely. It was a very homely home too!"
Office transformation
HR Shared Services Administrator, Andrea Phillips, visited a residential home in outer London and made the office space much more usable – check out that before and after! Andrea was also able to meet and spend time with the people we support.
Event support
HR Director, Vanessa Hughes, went along to one of the recent Summer Garden Parties in Surrey to help with the organisation and meeting and greeting of visitors.
CPR awareness
Lastly,  Learning and Development Facilitator, Michael Holden, spent the day at West Dean, teaching people we support some vital CPR awareness skills. They thoroughly enjoyed the session and even received a certificate for their efforts! Michael said: "It was a real highlight for me to be able to do this with them, a real reminder of why we do what we do."
This initiative is a fantastic way to ensure our CF team members get to spend some time in our homes and services, connecting with teams 'on the floor' and people we support. It also reinforces Achieve together's true purpose – ordinary lives, extraordinary people! We can't wait to see what everyone gets up to in the coming months.