Our three finalists in this year's British Care Awards (Wales) attended the awards evening at Cardiff Marriott Hotel on Friday 27 January.
Shannon Gallagher, from Heathdene and Katherine Knight, from Ty Coedwig, were both finalists in the Care Home Manager Award category. Sharon Williams, from Ty Nyddfa House, was a finalist in the Care Home Worker Award category.
While they didn't come away with the top accolades, they had a fabulous evening together with guests and received finalist certificates to mark their success.
They are all winners to us, and we are very proud that they managed to beat hundreds of others to secure their finalist places. All three took part in an interview after they were shortlisted following the initial online nomination.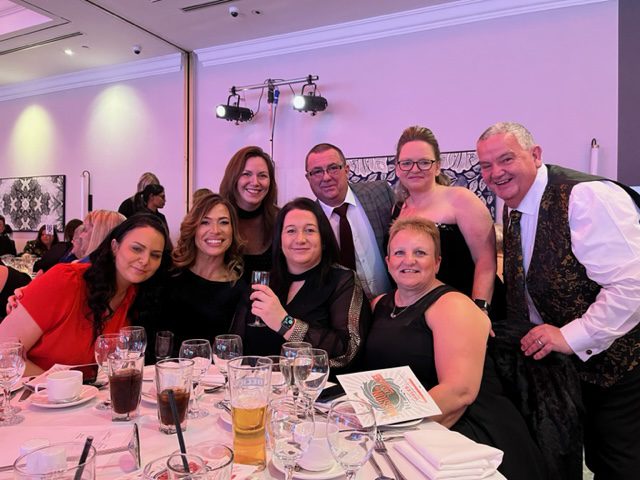 Katherine Knight (back row, third from left) Shannon Gallagher (front row, far left) and Sharon Williams (front row, far right), were joined by colleagues and partners at the Great British Care Awards – Wales event.
About the finalists
Sharon has been with Achieve Together for six years. Her Christmas Eve boxes are something of a legend each year and hugely valued by people we support.
Katherine's journey began in health and social care when she left school at the age of 16. She recognised she wanted to make a difference in other people's lives by using personal experiences with family and friends and remains passionate about ensuring that people absolutely live a happy, healthy, fulfilling life.
Shannon first applied for a support worker position in 2016 after working as a community carer for many years. She became a Home Manager in 2018 and has shared that making sure people live their lives to the fullest and achieve everything they want is a reward in itself.
Katherine said: "It was amazing to be at the awards evening – lovely to get together with everyone and all the other care providers. Everyone cheered everyone else on because we all do the same job and recognise the work that others are achieving.
"For me, it was about recognition. Not every day is easy, and we are only as good as the team we work with."
Rachael Hawkins, Head of Operations in Wales, commented: "The atmosphere on the night was so positive and affirming. It was lovely to hear what others are doing in Wales and a lovely opportunity for Shannon, Katherine and Sharon to be able to share their success with colleagues and guests."