Each year at Achieve together we send a festive card to all our team members, those we support and their families. Lucky for us, Achieve together is full of talented people who enter a competition for their design to be used on the front cover! Voting for the winners was done via our app, where the entry with the most "likes" won. The two brilliant cards below came in first and second place!
2022's Festive Card Competition Winner!
Our brilliant winning card was created using the thumbprints and toes of the very talented and creative team at Highfields: Andrea, Emma, Dawn, Philip, Charlie, Megan and Mandy: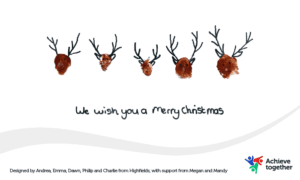 And a very deserving runner up!
Our runner up Christmas card was created by the brilliant Solomon at Educational Day Service, Bath: