Emma works at The Children's Trust, a charity shop where money raised helps children with brain injuries. Day to day, she puts price tags on clothes and hangs them, and is also learning how to work the tills.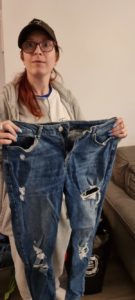 Dedicated to her job, Emma will often work beyond her allotted hours to help out. She also encourages new team members and helps them to learn the ropes, and her support team are incredibly proud of her sense of independence and how hard she works. "I get on well with all the staff members and volunteers there," says Emma. "We always have a laugh!"
Emma's hard work has been recognised, too. She recently received a personal email from The Children's Trust head office, thanking her for all of her contributions that helped the shop raise over £6000. "I'm really proud of myself," said Emma. "I literally had tears in my eyes!"
Supporting her to find a job, Emma's team members accompanied her in visiting charity shops in the town to ask whether they had any vacancies. Emma secured an interview with The Children's Trust. Her team organised practice interviews with her to help her feel confident when being asked questions. They supported to her interview and she received a job offer straight away! Support staff also attended Emma's induction day and health and safety run-through at the store with her. Emma now goes to work independently.
New skills and plans
Emma says the manager at the shop, Lisa, has really helped to boost her confidence. Her job has also helped Emma to sharpen a number of skills. These include handling money and time-keeping, which she hopes will help contribute towards her plans for the future.
Emma has big aspirations to move into paid work and become more independent. She would like to work somewhere like JD Sports or Sports Direct, but applying to jobs and finding paid work has been a challenge. To help Emma achieve her goal, her support team encouraged her to sign up to a supported employment service via The Education People, based in Kent. The Education People helps with matters such as skills building, job searching, reasonable adjustments, interview techniques and more. With Emma's drive to find paid employment, we're sure she'll have no problems in finding success.
When asked if she has any advice for people being supported by Achieve together, Emma simply says, "Work hard and achieve what you want in life."