Carol Thomas has known Delia Powell and her husband Clive for more than 30 years. Throughout this time, she has supported their daughter in two homes in the Merthyr Tydfil area. This extraordinary continuity of care has led to a strong bond between them all, plus a wealth of shared experiences in mental health support in the district.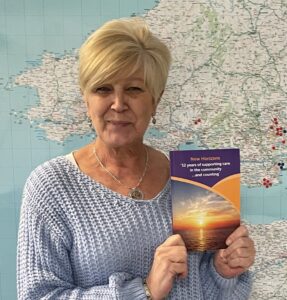 In gratitude, Delia has mentioned Carol by name in the preface to her new book, along with the rest of the Ty Newedd team, 'for all the support and kindness you have given to our family'. New Horizons – 32 years of supporting care in the community… and counting' recounts the history and impact of a wellbeing drop-in centre established in Aberdare in 1991.
New career
That same year Carol began her career in care in a newly opened care home in Aberdare. She initially applied as a cook but within two weeks switched to a Support Worker role. "The home was for 20 people with varying mental health needs. They had come into the community from a large mental health hospital which had closed. I found I was drawn to their openness and positivity and the friendships they had formed with each other," she explains.
"Curious, I wanted to know more about mental health and all that comes with it. I realised that I didn't want to be in the kitchen, I wanted to be on the floor making a difference."
One of the people living at the home was 28-year-old Ellen Marie Powell. Carol quickly came to know not only Ellen but also Delia and Clive. They were frequent visitors, very involved with their daughter's life. Over the next decade, Carol's career progressed to Senior Support Worker, followed by liaison Support Worker. In this role she acted as a bridge between the trained mental health team and the Support Worker team.
Beautiful person
Delia says: "When I couldn't be there for Ellen because I became ill, Carol was always there. She is a beautiful person, made to do this job. She goes about it quietly and gently and even guided Ellen to hospital when it was needed."
Often, Carol takes Ellen and some of her housemates to New Horizons for lunch, tea or other activities. The centre, which Delia helped to found, has been a thriving hub for wellbeing, welcoming anyone in the local community.
When Ellen's original care home closed 22 years ago, Carol moved with her and three other people supported there to Ty Newedd. In her new role as Team Leader she was able to settle the four friends into their new home. She has watched Ellen, another lady and a man live carefree and happy lives there, and witnessed a second man move to a new home with less support.
Sisters and brother
Delia and Clive couldn't be more delighted with their daughter's home and the care that she and others receive at Ty Newedd. They are also very happy that the team makes families feel so much a part of life there. She says: "You can just feel the warmth of the home when you enter, it's not like a care home, it's a home that cares. The people living there are like sisters and a brother, it's really beautiful."
Carol adds: "I have made really good friends at Tyn Newedd, managed by a special lady who has been there as a confidante, mentor and a friend. The best part of my day is having my last cup of tea with the people who live here, catching up on the day's events.
"It's a journey I wish I had taken at a younger age, but it's a journey that I'm so very proud of."
Health and Wellbeing Director, Michael Fullerton, says: "It is wonderful to see Carol and the wider Ty Newedd team being acknowledged and recognised in this way. Carol is one of the most wonderful people and managers I have ever met. It does not surprise me that she has developed such strong bonds with people over many years.
"I know Carol to be a highly skilled manager and leader, gaining huge respect from the team. She is incredibly modest. Yet she exudes confidence, resilience and determination to support people with complex needs to have the best possible quality of life. I am proud to know Carol, and to work in the same organisation as her. Long may she continue to make a positive impact on the lives of others."