1 – First of all, Orchard View held their own bake-off competition and, Aaron made delicious chocolate cupcakes covered with marshmallows.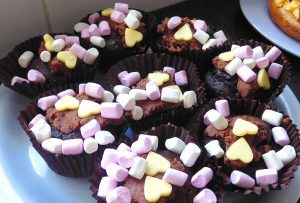 2 – Alex from Orchard View made cookies decorated with a smiley face.
3 – Andrew from Orchard View got ready for afternoon tea by making some tasty Jam Tarts.
4 – Carl from Orchard View got busy making a Victoria Sandwich decorated with a pink icing love heart.
5 – Gary from Orchard View had fun making cornflake cakes with a variety of decorations.
6 – Jody from Orchard View made delicious shortbread biscuits.
7 – Josh from Orchard View made rocky road brownies decorated with marshmallows.
8 – Shaun from Orchard View made some colourful fairy cakes.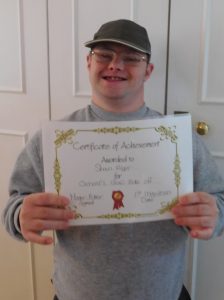 9 – The Cedars banded together to make a cake covered with icing, chocolate buttons and sugar flowers.
10 – Francis and Liz at Clinton Lodge create a beautiful cake. Francis is claiming it as his own by dipping a finger in it.
11 – Andrea from Clos Yr Habwr made a Disney themed cake, we love the colours!
12 – David from Cwm Hyfryd made a delicious jam and buttercream sponge!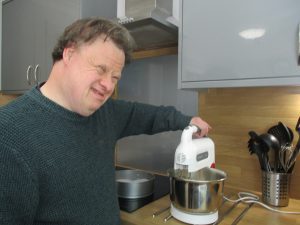 13 – Julia from Cwrt Y Bella showed off terrific baking skills by creating a Rainbow cake to thank the hardworking key workers!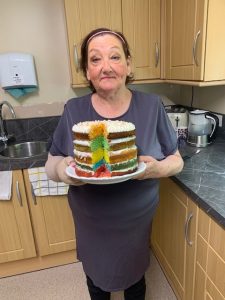 14 – The ladies at Holland Road banded together to make a sweetie cake!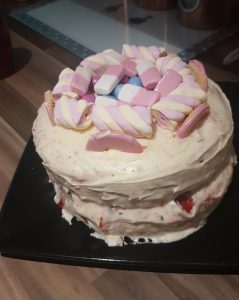 15 – Sam from Rivendell really enjoyed making Rocky Road, Fudge Cakes, a Mint Aero Cheesecake and a Milky bar Cheesecake.
16 – Nigel Mills from Acorn Park Lodge made some delicious buns!
17 – Catherine House made some cakes to celebrate VE Day.
18 – Damien and Rico from Ty Coedwig made chocolate brownies topped with marshmallows.
19 – Luke from Holmesdale made a delicious Strawberry Cheesecake – perfect for spring.
20 – Chris from Hawthorn Crescent cleverly decorated these cupcakes like a BBQ grill.
21 – Starbrook made a bee and honeycomb cake for Liam's Birthday.
22 – Kenworthy House banded together to make a beautiful rainbow cake.
23 – Victoria from Ty Nyddfa isn't letting Gregg's closure keep her down and made her own delicious sausage rolls.
24 – Lottie at Alderton House created a Rainbow cake which tasted delicious!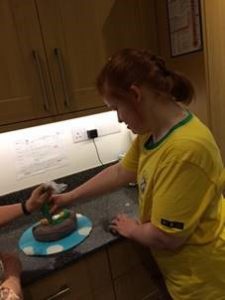 25 – Raymond from Heathdene made this cake as a tribute to the team who care for him.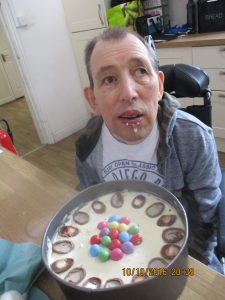 26 – Staff and people we support in Uplands made this pretty sponge with icing and sprinkles.
27 – Senior Support Worker Chloe Harris from Clareville made these Union Jack cakes for VE day.
28 – Fairways made a delicious Oreo Cheesecake.
29 – Meesons Lodge banded together to make colourful cupcakes.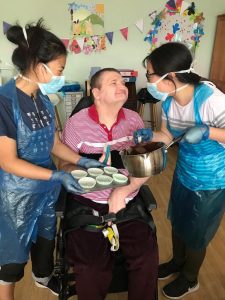 30 – Susan from Troed Y Bryn looks very happy with her Chocolate and Strawberry creation.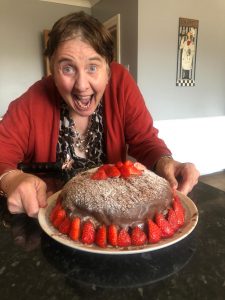 31 – MR, RM and JR from Sandylee teamed up to make this pretty cake with lots of different sweets and royal icing to decorate.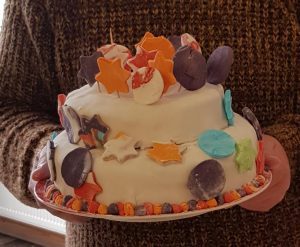 32 – Shelly and Joanne from Arundel House made a star-shaped cake and some cupcakes.
33 – Dawn from 40 Rye Hill pushed the boat out and made a delicious made a Lemon Cheesecake.
34 – Paulette from Girling Street looks very proud of her Victoria Sponge.
35 – Stephanie from St Faith's Villa made a delicious carrot cake with cream cheese decoration!
36 – Lucy from Girling Street cooked up a Vegetable Quiche.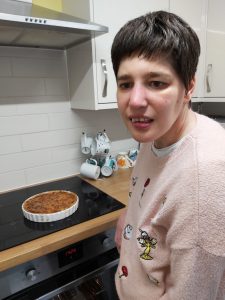 37 – Chris from Walnut Tree Lane made a Victoria Sponge and biscuits to say thankyou to the NHS.
38 – Joanne at Kingsdown House is bringing this lovely cake in for everyone to enjoy!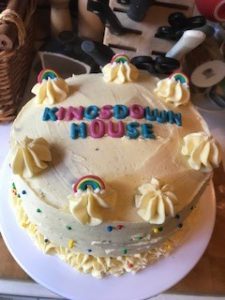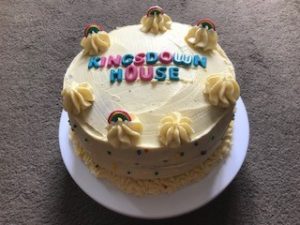 39 – Lorraine, Mark and Angela cooked up a feast of treats including cookies, jam tarts and sausage rolls.
40 – Scott from Farm Way made a Butterscotch Tart.
41 – Siobhan from May's Lane showed a lot of love with her heart-shaped cake.
42 – Linda and Maria from Mays Lane made a Chocolate Orange cake.
43 – A cheesecake with a pink base made by Keeley from Mays Lane.
44 – Pineleigh made a set of delicious cupcakes with colours, rainbows and stars!
45 – Jordan from Park Road baked muffins for his carers.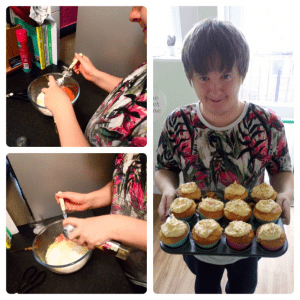 46 – Donna from Park Road baked her housemate Stacey a birthday cake. She also made cheese straws for everyone.
47 – Byfield Court made a bright selection of cakes including a Rainbow cake decorated with skittles! A great way to spread positivity!
48 – Pen-Y-Hill made with some positive messages in a world of negativity.