Claire moved into one of our supported living home near Caerphilly from her family home in 2011 as she wished to have more independence. Before moving, she will tell you that she 'couldn't peel a potato or a carrot and look at me now!' Since then, Claire is has moved in with a shared lives carer, which gives her even more independence and this was a move that she remains really happy about.
During her time in supported living, Claire attended college to complete ILS skills and has had various voluntary placements in local schools where she has supported the teachers with the children there. Claire had to apply for a DBS check to be able to do this and was very proud when this came back. Claire enjoyed her time at her placements, particularly supporting the older children.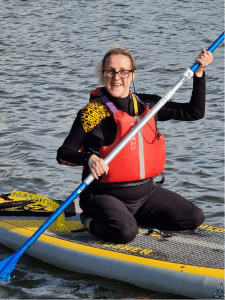 Claire was then offered a move into a neighbouring property in 2019, as it would support Claire to further develop her independent skills. She was supported by the team to look at alternative ways to manage anxiety and low moods and encouraged to take charge of this area of her life which she struggled with. Claire was also supported to think about her 'M n M's (Money Management, as Claire was not a fan of the word budget), and how she could keep herself safe. Claire recognised that she needed some more support in this area, so we held an account on her behalf that received her benefits payments, while Claire remained her own appointee. The team works with Claire weekly to discuss how much her budget would be and what she was going to spend it on. This support varied depending on how much support Claire wanted.
It was difficult for Claire at first to work with team members around money, but was it worth it? Absolutely.
Claire has money in the bank, her bills were being paid, and best of all – Claire was able to go to Disneyland on holiday – something that she always wanted to do but never thought she would achieve. At low points, this has been a reminder to Claire on just how far she has come.
Well done Claire, you are achieving so much!