Lise, who lives in Supported Living in Hampshire is a huge fan of Harry Potter. She enjoys watching the movies, reading the books and has always been desperate to take a trip down to Harry Potter World in Watford.
Lise had began organising a trip to Harry Potter World for her birthday this year and was really looking forward to it. Unfortunately, due to the Coronavirus pandemic and the UK lockdown, this dream could not come true this year.
Lise was a little bit disappointed as she had been looking forward to this for quite some time. However, Robins Way decided that if Lise couldn't go to Harry Potter World, they would bring it to her!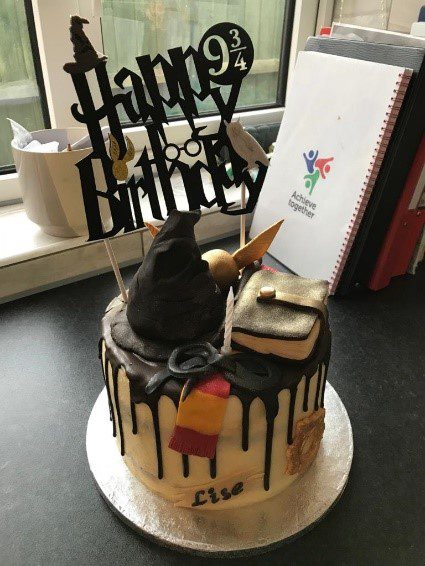 Team members across our Deaf services and friends and family members of Lise all pulled together to help make her Harry Potter birthday dream come true. A special Harry Potter cake was commissioned especially, costumes were worn, games and quizzes took place, a lovely collection of food was beautifully made and presented and it all looked a truly professional job!
Lise has said that this has been one of her most fun and special birthdays she has ever had. She is extremely thankful to the team who helped make her Harry Potter dream come true and is looking forward to visiting the real Harry Potter World when it's safe to do so in the near future.
Robins Way in Hordle, Hampshire, is an enhanced supported living service for people aged 18+ with learning disabilities, who are deaf and communicate using BSL. They support a range of additional complex needs including autism spectrum conditions and mental health needs.