Team members at Achieve together are officially receiving top-notch training and development. Skills for Care, the strategic workforce development and planning body for adult social care in England, recently awarded us their Skills for Care Endorsement. This quality mark is given to only the best learning and development providers within the adult social care sector.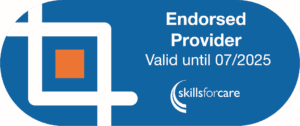 This external recognition reinforces that our approach in learning and development is high quality and meets industry standards and best practices. It also identifies us as a leader in the way we help our team members to increase their knowledge and progress in their careers.
To become endorsed, our Learning & Development Team had to clearly evidence that the training delivered makes a significant difference, not only to the learner but also to the person accessing care and support.
Among the development programmes available to team members are Career Adventures and Great Manager Academy.
Fantastic programme
Daniel, Home Manager at one of our Supported Living homes in Surrey, recently completed the Great Manager Academy. This three-month course of six modules is for Managers, Deputy Managers and Practice Leads. He says: "I have been in management with other employers but never been involved in such great training. The knowledge I've gained through the Great Manager Academy has really improved me and helped me in how to manage my team.
"There were some very interesting topics. The knowledge I have acquired has improved the support we give to people and enriched the home so much. It's a fantastic programme – I have had great feedback from team members and we now have great team rapport.
"Overall, it has enhanced my understanding of the skills needed to be an effective manager. It has also boosted my confidence as a manager and the tools you need to become a good manager.
Continued improvement
Head of Talent and Learning, Gary Cloke, said: "This endorsement will help us to continue to foster our managers' competence, development and growth. Improved leadership, decision-making, and experiences for the people we support are a natural consequence.
"Our team members are passionate about what they do and we know that giving them the skills and knowledge to do their jobs to the best of their ability is key.
"To be given this endorsement reinforces our belief that our team members can bolster their skills and learning to the benefit of all through the bespoke courses we offer. We have long been, and always will be, committed to valuing everyone whatever their role within Achieve together and giving them every opportunity to flourish."