We were delighted to be at this year's Autism show and what a fantastic event. It was really good to meet so many family members and people we support, together with professionals from across the sector.
Our Health and Wellbeing Director, Michael Fullerton, and a parent of someone we support, Isabelle Garnett, took to the stage to present on Autistic Catatonia.
The Autism Show saw the launch of our brand new Transitioning to Adult Social Care Guide. The guide received an incredible amount of interest and we hope this will help many in navigating people through this sometimes confusing and overwhelming process. This guide is available for all to read below.
Dominic Dyer one of our Assessments and Placement Managers who attended the event said:
"I felt the show was the perfect platform to engage with families and professionals to promote the exceptional support offered by Achieve Together. Also to offer support and guidance to families who are looking for new opportunities and homes for their family member. All in all an extremely positive two days".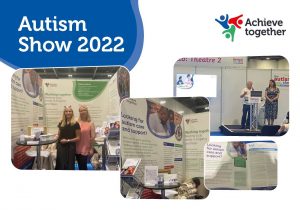 The event was a huge success with we were able to offer help and guidance to a large number of people. We are already planning for next year and do hope you'll be able to join us!
Want to join our community and stay in touch?
Are you a professional within the Social Care Sector? Receive regular updates about availability of support in your local area, updates on new developments and features. Sign up to receive our professional's e-newsletter here.
Get our monthly update packed full of news and features that give you an insight into life here at Achieve together and sign up for our Together now e-newsletter here.